General Questions
What is giclée?
Giclée is a fine-art printing process that uses very high-end bubble jet technology to reproduce fine art graphics, using archival pigmented inks. The term refers to both canvas prints and fine art paper and photo prints using giclee print technology.
The first giclée printers were produced by Iris Graphics in the 1980s, and was first used as a system to proof commercial pre-press before going to plate. However, Nash Editions in California saw the new machines as having potential to be more than just proofing devices, and started using them to reproduce fine art prints.
Since that time giclée printing has come a long ways, and many improvements have been made in the accuracy of the printing technology, and the longevity of the inks. The leading printer manufacturers such as Epson, and Canon have all spent millions of dollars perfecting the ink technology, creating archival pigmented inks to assure rich color and longevity.
Giclée is now the leading method of fine-art printing, for self publishing or small-print editions. It combines the brilliant color and archival qualities of traditional printing methods with an ease of printing that was never possible before. Almost all high-end prints for sale through galleries or independent studios are now giclée.
For further reference see:
What is your green policy?
We strive to be green whenever possible.  We also use recycled paper for wrapping and other things like invoices. We also recycle our ink cartridges and packaging. Finally, every fine art print is personally inspected by a Northwest Spotted Owl, and then hugged by a free range pink tree squirrel.
Do you do picture framing?
We do not offer picture framing except in special bulk order jobs. 
We offer some standard framing options for our metal prints, and canvas stretching for our own canvas prints, as well as some finishing options, but we're not a full-on frame shop.
If you are an artist or photographer that has a reseller permit and you are setup as a business, you can go to Jayenesse Moulding Co. for framing supplies. They're a great local business and offer great customer service and wholesale pricing.
For retail framing needs, there is Michaels. Unfortunately Aaron Brothers went out of Business in 2018, and Bellevue Art and Frame went out of business around 2016, drastically reducing our framing options.
Where is a good art supply store in the Seattle/Bellevue area?
We love working with Dakota Art.  They have three locations, in Ballard, Bellingham and Mount Vernon.
In the University District we very much like Artist and Craftsman. We really like staff here and the variety of art things.
A local Art Supply store that makes its own paints is Daniel Smith. They also have a good supply of fine art rag papers.
On Capital Hill if you're looking for art supplies there is always Dick Blick. They're national and commercial but they have a wide selection of art supplies and good online ordering.
Can you recommend some good canvas pliers?
We don't know what the deal is with canvas pliers, but they're either really cheap and fall apart (like the Fredrix Canvas Pliers), or they're really expensive. There seems to be no middle ground for canvas pliers, and we looked high and low. So as strange as it is, the canvas pliers we chose were the Holbein Extreme Pliers, made of molybdenum-alloy (whatever that is). At around $150.00 they had better be durable! So far we've had no problems.
We also found this guy on the Internet, John Annesley Company, who makes canvas pliers. We haven't tried them yet, but the description of why he went and designed custom pliers matches our experiences. There just is no middle ground. His
canvas pliers aren't cheap, but they look fantastic.
What monitors are best for graphics and photography?
Increasingly PCs (Windows) and Macs can use the same monitors, so what follows is applicable to both platforms. Linux as well I'm sure…
Monitor types: There are IPS panels, VA panels, and TN panels. The IPS monitors have the best color resolution, and the best viewing angle of all the monitor types. S-IPS (In Plane Switching) panels are generally considered the best overall LCD technology for image quality, color accuracy and viewing angles, however they are very expensive. They are well suited for graphics design and other applications which require accurate and consistent color reproduction. The Apple cinema displays are all IPS LCD monitors.
VA (Vertical Alignment) Panels can also have high quality image ratings, but have issues with contrast degradation at viewing angles greater than 160 degrees. VA (Vertical Alignment) technology such as S-PVA/MVA are middle of the road LCD panels. They offer better color reproduction and wider viewing angles than TN panels, but have slower response times.
TN panels (Twisted Nematic) are the cheapest, but are the most popular with consumer based systems, particularly Windows systems. The response time, however, is generally faster on the TN panels, which meets the demand of gamers and home media systems.
Hardware calibration: allows a calibration device and software to create a unique ICC color profile to that monitor and computer, which best displays colors accurately. Some monitors do not allow for hardware calibration. The Apple monitors, for example, do not allow for hardware calibration (In most cases they don't need to).
If you're work flow requires you to have very fine control over your CSM (Color Managed System), then you'll want to pay close attention to this, and select a monitor that allows color calibration with systems such as xrite (greytag macbeth)products like the the eye one, Colorvision's monitor Spyder, and others.
Monitor Brands:The monitor brands to watch for in our opinion are NEC Multisync (PA271W), La Cie, and Eizo. The Eizo is the top of the line, but at thousands of dollars of cost for slightly better color performance, most people wouldn't know the difference. So if you need a good graphics monitor that can be hardware color calibrated, this should give you a starting point.
I'm making a portfolio. Do you have any recommendations?
If you must keep a paper portfolio, we recommend keeping it up-to-date with quality prints of your work. It should also be clean and simple, showcasing the best of your recent artworks. Including business cards to pass out as well is a great idea! You can't expect to generate interest in your work commercially unless you represent yourself well, and a good portfolio leaves a great impression. It's also very important to maintain an up-to-date online portfolio – in fact, more and more, it's cheaper and better to only keep an online portfolio, which would be your art website.
Keep in mind that a large part of keeping a portfolio is keeping an organized digital archive of your work. In this day and age, it's very important to back up your computer so that you do not lose your archive.
In many cases you won't be asked for a physical portfolio, but people will want view your website/social media sites and/or receive digital images sent through email or online submission tools.
I'm going to be displaying my work in a show. Should I frame my work?
 The question of framing comes up a lot. Framing is expensive, and many artists want to avoid the cost of framing, especially for art shows and exhibitions, as the costs can sometimes be prohibitive.
While it's understandable that artists want to save money on framing, there are none-the-less good reasons to do so, including a nice presentation of one's work, and of course preservation. Anytime a work is being moved around from one place to another the risk of damage increases. From a strictly practical viewpoint, framing is about conservation and protection.
If you stick to standard sizes, it's more affordable to purchase ready made frames to present your work. Ikea, Michaels and others have discounted frames that will save you time and money if you can't afford or justify museum quality framing.
What does it mean to color manage my computer?
 Color management is the black-art and science of matching all of the input and output devices so that color is consistent. This means that your monitor displays the same color that you see when you print, and when you scan a color document, the resulting image looks the same on your screen, and again output from your own printer.
There are a number of tools you can purchase to calibrate your equipment, and if you're serious about digital art and photography, you should definitely invest some money in doing some simple calibration. The simplest tool is a monitor calibrator, and they range anywhere from under $100, to thousands, depending on your needs. We use the i1 by X-Rite, but you can search for monitor calibrators on ebay and find decent ones for $100-$200.
Do you offer any kind of warranty for your prints?
Yes! First, we guarantee you will be satisfied with the quality of the print and/or scan, or we will remake it or refund your money in full. We believe in the quality of our work and stand behind it 100%. If, for any reason, you are not satisfied with the quality of our work then we will refund your money or make it right (within 30 days from when you receive the order). Please check over your scans and prints carefully when you receive them, so we can help you as soon as possible if there is a problem.
Secondly, we guarantee the longevity of the print. We use the finest giclée papers and Epson K3 archival inks that will last at least 100 years. We also offer finishing services that include protective coating on top of the finished paper or canvas. All of this combined adds up to a quality print that will last a lifetime or more. If for any reason the print fades over time, we will replace it.
Is there a minimum order fee? Why?
We have a $25 minimum order per paper type for returning clients, and a $40 order minimum for first-time clients. The reason for the minimum order is that we're not setup like a self-service photo lab to do quick, small orders from a kiosk, and all of our papers are on rolls, which requires that we print enough that we don't waste paper. This is the only way we can offer such a wide variety of papers and canvas.
What is your turnaround time?
Normally our turnaround time is 3-5 business days depending on our queue at the time. We guarantee a 5 working day turnaround time from the day  we receive payment for a print order, or from when artwork is dropped off for scanning.
Do you do rush orders?
We charge 50% the cost of your order to rush it , and only if our queue allows for a rush job. Please note, a rush fee guarantees completion before our usual 3-5 day turn-around (it does not guarantee next-day completion). We'll only commit to a rush order if we know we can meet your deadline. For larger orders that require additional file reformatting, there may be additional charges. If you are a first time client, we may not be comfortable doing a rush order. The Fine Art Printing and Scanning process can have a learning curve, and if we have never worked with you before, we may decide that starting with a last-minute rush order has too great a potential for dissatisfaction, or more headaches than we're will to deal with.
However, there is a caveat to all this. Remember the saying, "You can have it right, or you can have it now, but you can't have it right, now"? All of the work we do requires attention to detail, and the more we try to rush the process, the more likely it is that something will go wrong.
If you are up against a deadline and you are ordering prints or scans at the last minute and find a problem, such as a misprint or error that we didn't notice, then we may or may not be able to fix any issues in time for your deadline. We make our very best effort to help you because we appreciate and respect our clients, yet we need to ask for your understanding and cooperation when it comes to "emergency printing and scanning". We're not Kinkos, and we're not the fire department, but we will do our best with the resources we have.
How long do you store my files?
We promise to keep your files for up to 2 years if there is no printing activity. This is our liability disclaimer (although we make no claim for liability for loss of your files if you lose your copy). The reality is that as of 2020, we have over 12 years of files, and have never discarded or lost any of our scans. We have off-site backups as well, so chances are pretty good that your files are safe with us no matter how long it's been.
We do discard files after two years that were uploaded by clients if there has been no activity, but we keep files that we have created (our scans).
Clients are advised to keep a copy of their files and treat them as you would other valuable electronic documents, photos or heirlooms. Replacement CDs or DVDs and file recovery after 2 years if you have lost your copy are $20.
What about copyright considerations? Are my files safe with you?
We keep your images strictly confidential. Bellevue Fine Art Reproduction does not allow any images to be printed without the artist or copyright holder's authorization. Artists maintain copyright over their own files and images. We make no copyright claims to an artist images and we provide artists their own copy of the high resolution images.
We're often asked if we require artists to sign a form stating that the work is theirs. In general the answer is no. We generally don't check, and we can't really be the copyright police. However, if it's quite obvious that you don't have rights to it, then we can't reproduce it.
We do have some copyright release forms for various reasons, and if we're not sure then we'll ask you to sign a liability release form, and you're on your way.
The exception to this is art collectors who have rare pieces in their collections and want to have a digital backup and a copy for various reasons. In some cases collectors need high quality scans to show in catalogs on the Internet, or for portfolios, which may fall under fair use. In some cases older works are no longer copyright protected, and the owner is free to do what they want with them. Collectors may also want high quality scans of valuable artwork for archival and insurance purposes, which is a legitimate use. However, unless an artwork is outside of copyright (75+ years old), simply purchasing an original does not give you the right to sell reproductions. The artist retains copyright of the reproduction rights unless another agreement is explicitly negotiated.
Do you do art restoration?
Yes, we do digital restoration. In other words, we can scan an original painting that is damaged, and then digitally remove cracks, fire damage, fading, and other problems before it is printed. We can also restore photographs in this way, as well as damaged artwork. It's quite common for artists or collectors to bring us artwork for scanning and digital restoration, removing stains from artwork, cracks, tears etc.
This is an example of an extensive digital restoration project we completed for a client. We scanned an old photocopy and then digitally repainted it to look like the original pen and ink drawing.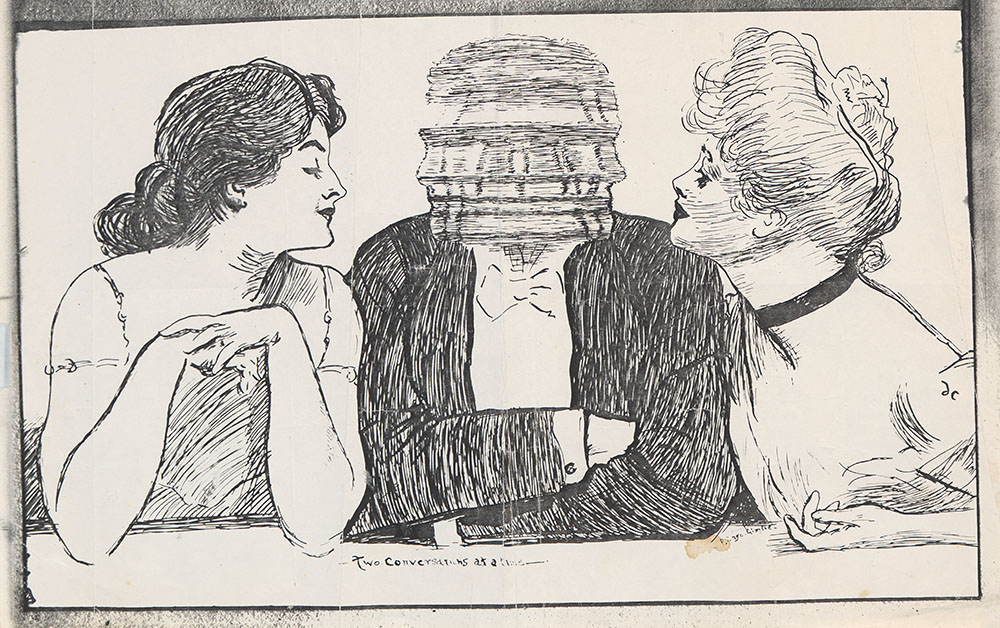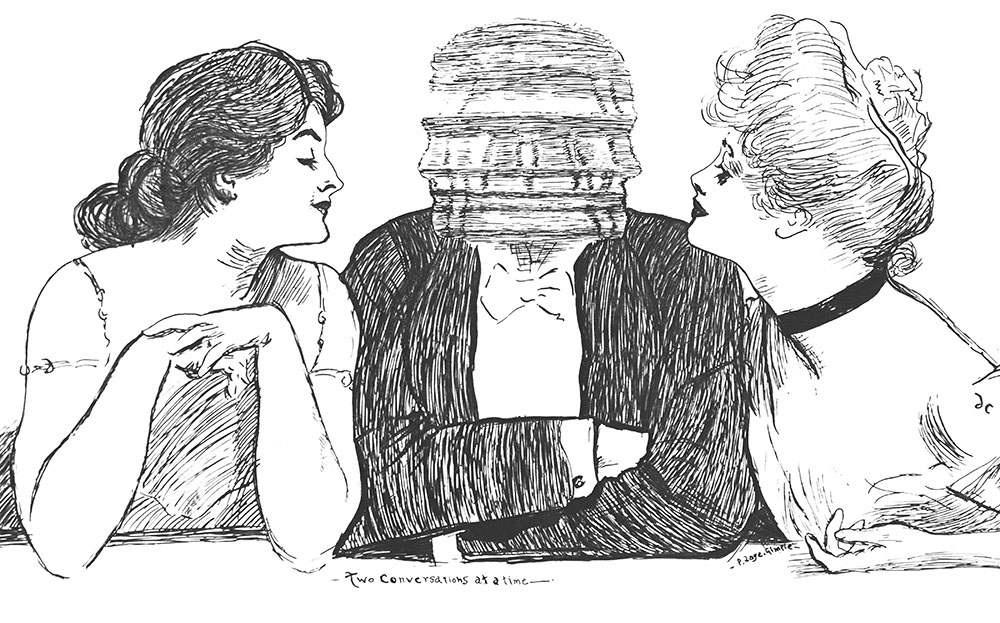 However, if you're looking for a service that does art restoration on the original artwork, then you're probably looking for someplace like
http://phoenixartrestoration.com/.